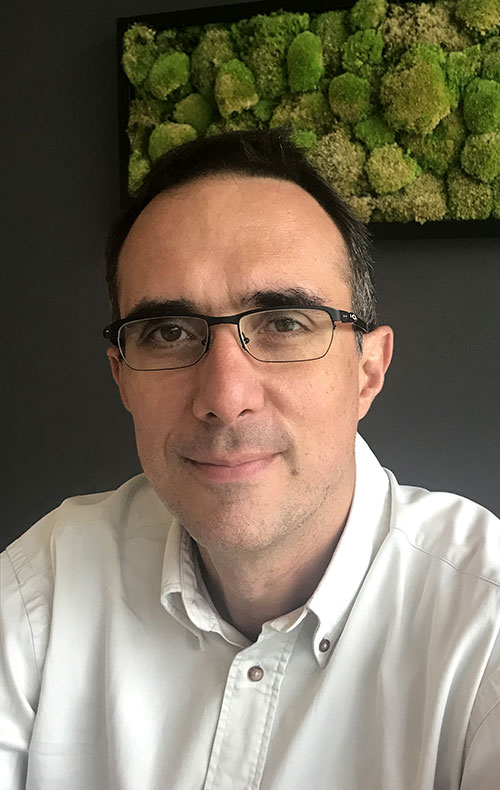 Benoît FROIDUROT
Head of Renewable Energy Grid Integration Department, CEA-Liten
E-mobility, impacts and opportunities for electrical networks
✦ Thursday December, 1st – 10:05
Graduate engineer and PhD from INPG/DGA (French Army weapon department), he joined Schneider Electric in 2003 in research department dealing with electrical contacts and electromechanical product architectures. He moved to Project & Engineering Center in 2007 as project manager for electrical distribution, oil & gas and industry segments. He was then involved in tendering and execution of various electrical projects in such applications, before to get specialised in SOLAR PV projects in 2009.. Consequently, he participated to several large plant PV project taking into account the whole scope of the plant (Civil Work, Mechanical structures, electrical conversion and Grid connection, security and SCADA).
From 2012, he joined SOLAR Business Unit of Schneider Electric as Global Solution Architect to share PV plant project experience and to support business and execution of PV plant projects. Covered areas go from Australia, South Asia, India, Middle East, Eastern Europe, to Russia and CIS countries. Hence many projects supported from five up to hundred Megawatt peak in various cultural, politic and "Grid utility" contexts.
In 2018, still in Schneider Electric's SOLAR business, he became director of solution architect team, mixed with R & D people dedicated to PV conversion solutions. The main achievements are several hundred MW plants in Dubai, Australia and Mexico, for which specific and competitive solutions have been developed and commissioned.
The last 2 years in Schneider Electric were dedicated to French business, dealing with PV, wind, EV and hydrogen large plant projects and specific product developments.
Since November 2021, he joined CEA as director for renewable energy integration in electrical networks, leading three labs covering digital, energy management, power electronic, storage and building consideration scopes.